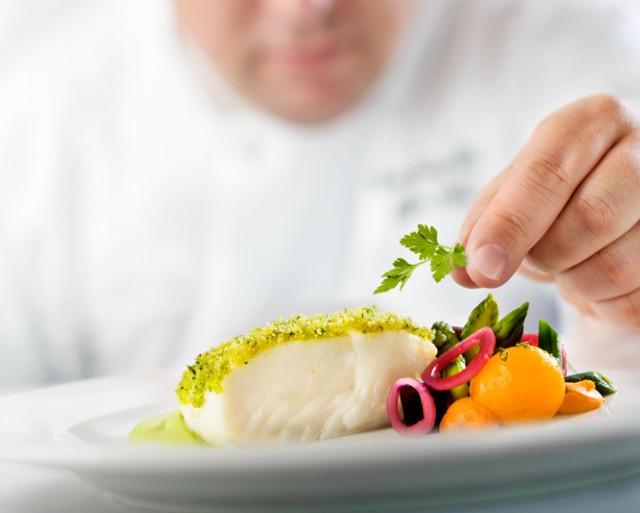 Dining
Dining at The Gatesworth —
From formal to casual, dining at The Gatesworth is about quality and choice.
Meet Executive Chef Brian Hardy —
Chef Hardy is the award-winning chef behind The Gatesworth's delectable cuisine.
Brian Hardy graduated from the Culinary Institute of America in New York and spent five years as Executive Sous Chef at Bellerive Country Club in St. Louis before joining The Gatesworth as Executive Chef in 2001. Chef Hardy has earned many culinary accolades, including Chef of the Year 2010 from the American Culinary Federation Chefs de Cuisine Association of St. Louis.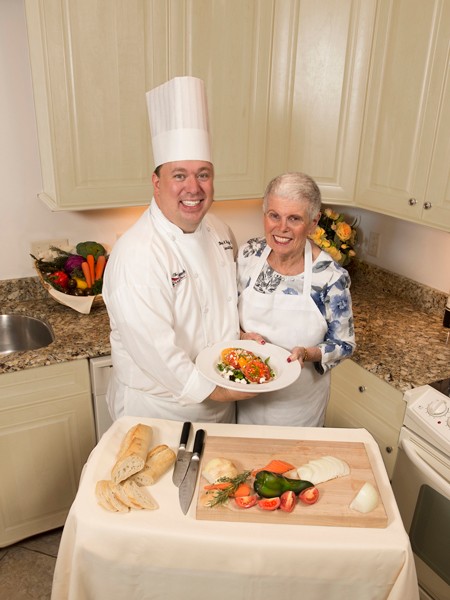 Something for Everyone —
Enjoy casual or fine dining in one of our three restaurants.
The Colonnade
Formal and elegant, The Colonnade is the place to go when you're in the mood to "dress for dinner." Draped windows, chandeliered ceilings and stately crown molding create a refined ambiance. The Colonnade's attentive, knowledgeable staff pairs lavish food with the perfect wine or drinks.
Palm Court Restaurant and Lounge
Bright, casual and open from early morning to evening, Palm Court is the perfect choice for a casual breakfast, lunch or dinner. The comfortable atmosphere features cheerful music and lighting in a garden setting. Enjoy a home-cooked meal freshly prepared from our kitchen along with daily specials, premium liquors and fine wines.
Bistro
The Bistro features a delicious array of freshly prepared selections, including Tuscan-inspired fare with homemade flatbread pizzas, fresh pasta entrees, choice cuts of meat, crispy salads, fresh fruits and vegetables and wonderful desserts that round out the menu. 
From Our House to Yours —
The Gatesworth welcomes Residents, along with their families and friends, to host gatherings and special events in one of our accommodating community spaces or dining venues. Our staff will work closely with you to plan every aspect of your event. They will help you create the perfect menu and take care of everything from valet parking to room setup and decorations, as well as any other custom requests. Residents who choose to dine out with family and friends are also invited  to take advantage of our unique "From Our Home to Yours"™ service. This one-of-a-kind takeout service allows Residents to bring along homemade meals from our kitchen including fresh-baked pies and turkey dinners complete with all the trimmings!
"What I love about working at The Gatesworth is I see the same people day in and day out, and I really get to build relationships with them. I know what Residents like, what they don't like, and what their dietary needs are. That means that I get use my imagination in coming up with dishes they'll enjoy."
- Brian Hardy, CED, Executive Chef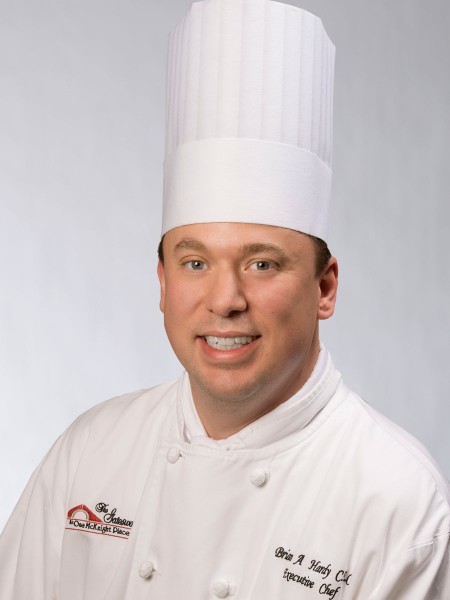 Fresh Ingredients, Cooked from Scratch —
Our culinary team has the flexibility and expertise to meet your tastes and dietary needs — whatever they may be.
We start with fresh, local ingredients and handle all prep in-house — from butchery to baking to house-made sauces. Chef Hardy and his team create healthy, delicious meals precisely the way you want them. If you have a dish in mind, our culinary staff can make it happen.
From Our Kitchen to Your Gathering —
Bring your favorites from The Gatesworth kitchen to your next family get-together.
Many of our residents request large and small orders to take along to parties and holiday gatherings. Whether a birthday party or Thanksgiving, our culinary staff makes it easy to bring great food wherever you go.