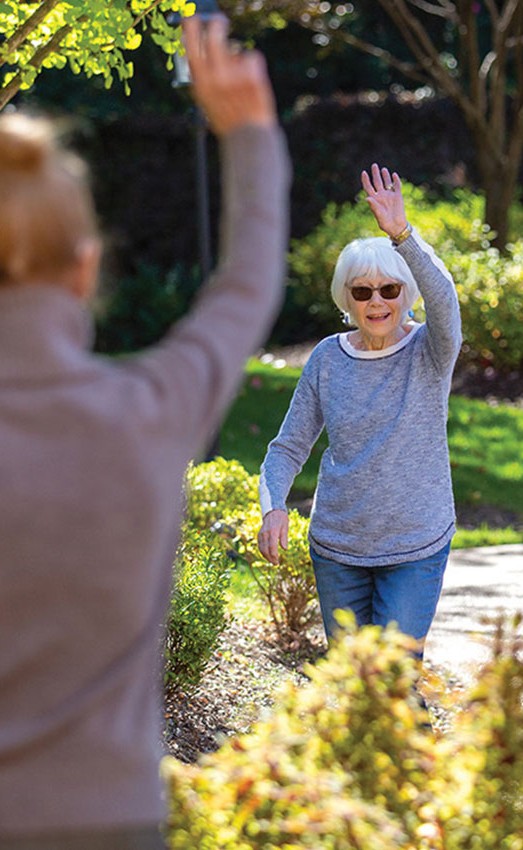 Gatesworth Stories —
Elfriede Olney
Better Living: The Gatesworth
As we age, security and comfort become even more important than they were earlier in life. It's much easier to enjoy your later years when you know all your needs are anticipated and help is never more than a few steps away. Elfriede Olney, who lives at The Gatesworth in University City, says the combination of ease and confidence is one of the main reasons she decided to move to the residence about four years ago.
Olney, a native of Linz, Austria, says her experience as a resident has been wonderful from day one. She previously owned a home with her husband, Dr. John Olney, and the two had been planning a move to The Gatesworth when he became ill and passed away. It was a bit daunting to pare down her possessions and relocate, but Olney says The Gatesworth staff were there to help her manage the process from the start. "They were wonderful," she says. "They helped me move and got me set up in my new apartment. The staff thought of things I couldn't have anticipated, and they made a difficult situation much more comfortable. And they are always available whenever I require something. No need is too large or small for them to help with."
Olney says making friends and settling into the community came naturally because she was so thoroughly welcomed. "Socialization is a big part of living here, but you can do as much or as little of it as you like," she explains. "The staff understands that everyone has different needs and preferences."
Another attractive aspect of life at The Gatesworth is how easy it is to stay active. "I was a gymnast and had a career as an occupational therapist, so I know the importance of regular physical activity," she says. "Physical and mental health go hand in hand. Maintaining movement, strength and balance are so important as you get older." She exercises five times a week and takes part in group classes that make it easy to stay motivated. "I also enjoy playing ping-pong and going for walks through the beautifully landscaped grounds," she says. "Whenever friends come to visit, they are amazed at how lovely it is here."
There are plenty of other stimulating pastimes to keep residents engaged as well, Olney says. "I love the cultural activities and lectures on current events, music, art, science and politics," she notes. "We enjoy presentations from very learned, interesting people from local universities, and they are always very popular." Dining is its own form of entertainment as well. "I'm very impressed with the cuisine here," Olney says. "Our chef covers all of the food groups and pays close attention to good nutrition for the residents. Meals are always a pleasure, whether I eat in my apartment or join others in the dining room."
Daily personal attention rounds out her list of reasons to enjoy life at The Gatesworth. "I think what makes it so special is that the owners are here and accessible," Olney says. "The staff is really caring, and they notice your needs. Their kindness is what makes this community so homelike for me."
Located at One McKnight Place, The Gatesworth offers residents a wide variety of ways to stay active and engaged. For more information, call 314.993.0111.
Text based on an interview by Julia M. Johnson in Town&Style