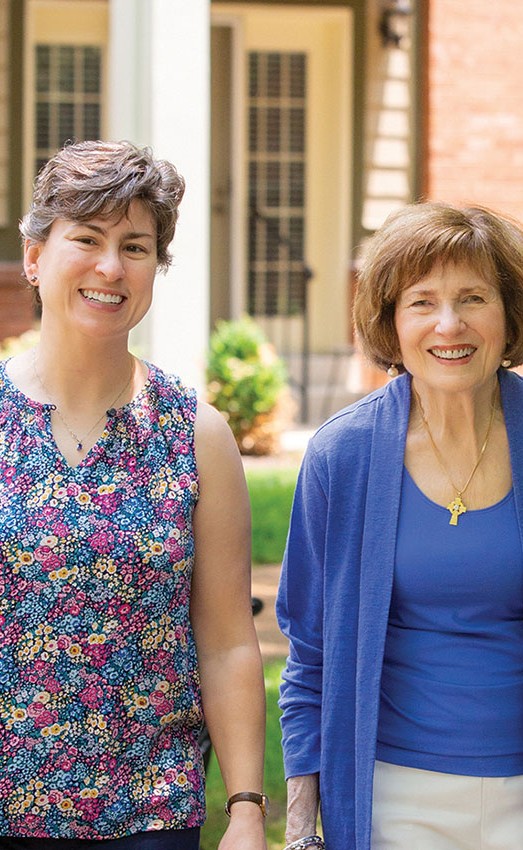 Gatesworth Stories —
Nancy McEvoy
Right at Home: The Gatesworth
Moving to a new place can be a daunting prospect for anyone, and it's an especially common challenge for older adults who want to be closer to their children. Finding the right place to call home can be a difficult decision. For Nancy McEvoy, the choice ended up being easier than expected. She and her family instantly fell in love with The Gateworth, making her transition from Atlanta, Georgia, to St. Louis an easy one. The senior living community offers residents innovative services and luxury amenities to ensure they remain active, happy and comfortable.
McEvoy spent most of her life in the south, living in Texas and Florida before attending Spring Hill College in Mobile, Alabama. After graduating, she and a group of friends moved to Atlanta to find jobs. There she met her husband, and they chose to raise their family in Georgia. "After my husband passed away, my daughter wanted me to move closer to her in St. Louis," she notes. "My son came up from Texas, and we all toured The Gatesworth together. It just had a great atmosphere, and I could visualize myself living here. The staff and residents were so welcoming, and as a gardener, I fell in love with the grounds. I made a commitment before we left."
Having now been at The Gatesworth for four years, McEvoy notes that one of her favorite things is the connections she has been able to make. Even during the pandemic, the community found ways to allow residents to socialize with one another safely. "Our floor would have hallway happy hours," she explains. "A small group would get together while social distancing. It gave us the opportunity to talk, and one gentleman on our floor is a singer, so he would perform for us. It made such a difference then, and it's something we continue to do."
Another way McEvoy has made connections is through the various activities and entertainment The Gatesworth offers. "There is so much to do, and if you participate, you meet some really lovely people," she says. "I like arts and reading, but there are so many different directions you can go in. You can't possibly do everything they offer, and every day there are different options." Along with book club, one of McEvoy's favorite offerings is the excursions that The Gatesworth offers each month. She enjoys the opportunity to go out on the town to try different restaurants or explore cultural institutions like the Missouri Botanical Garden and Saint Louis Art Museum.
The wide variety of ways residents are kept engaged is just an extension of The Gateworth's dedication to service. "My experience has been outstanding," McEvoy notes. "The staff is very accommodating and friendly, and they never make it feel like you are an inconvenience. They try to meet everyone's wants and needs, whether that's in the entertainment offered or even what's served for dinner. I have a friend who loves chicken pot pies, and they added them to the menu at her request. The motto here is, 'The answer is yes. What is the question?'"
Text based on an interview by Stephanie Wallace in Town&Style