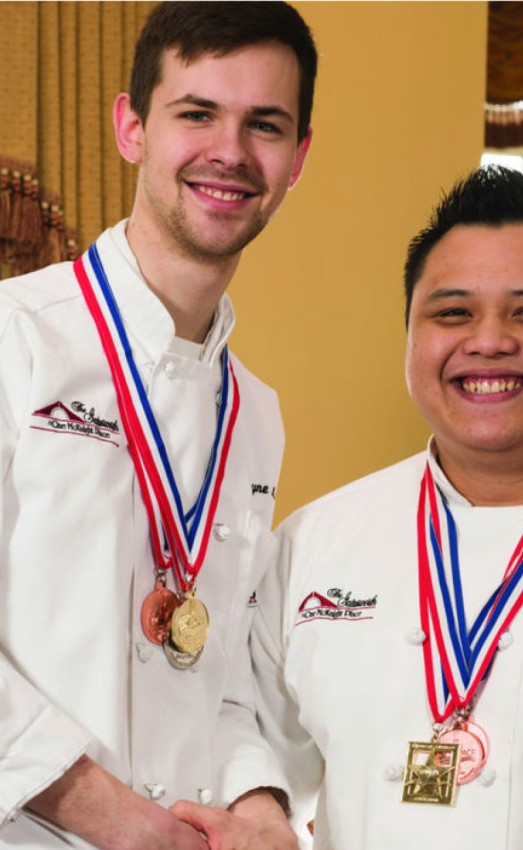 Gatesworth Stories —
Shayne McCrady
One hour. One dish. One hungry panel of judges.
Shayne McCrady, line and sauté cook at The Gatesworth, recently headed to the American Culinary Federation's Culinary Salon Competition to take on that challenge. He whipped up a dish of pan-seared chicken breast, chicken reduction, potato "bar," glacé carrots, pickled beets, sautéed mushrooms, and broccoli three ways — and with that, brought home the competition's Student Chef of the Year Award.
"To be named the regional champion is such an honor," McCrady told a news publication for St. Louis Community College, his alma mater.
McCrady's boss, Gatesworth Executive Chef Brian Hardy, couldn't be happier about the young chef's big win. "This is exciting for us," he says. "The idea with competitions is to perfect and fine-tune your skills. You can make yourself better on an everyday level. Several other members of The Gatesworth's culinary team, including Roger Jackson, John Morales, and Chef Hardy, have scored major competition wins of their own.
This award-winning experience all lends itself to The Gatesworth's high-quality dining program, which is inspired, first and foremost, by our residents. "We really get to know what they like and dislike," Chef Hardy says. "Our specials and our menus are built around the individuals, who see the cooks every day."
Text based on an interview by Robyn Dexter from Ladue News